Document Management

Get rid of unwieldy file cabinets and banish disarray with document management solutions from CTS Choice.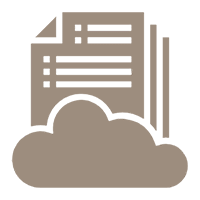 CTS's Document Management Solutions Advantages

Choice Technical Services is at the front of the pack with Document Management Solutions. DMS provides your organizations with improved workflows and efficiency while reducing physical file cabinets and lowering costs associated with information technologies.

CTS uses software and solutions to streamline and simplify your workflow process in your operation's various departments. The goal of the software is to make workflow more simplified, while improving efficiency overall.

Document Management Solutions provide you with a smooth transition into a digital environment that helps you reduce, or eliminate, the number of file cabinets and file storage locations. We are experts at helping you assess your current analog/paper system into a more paper free digital environment where possible. With the digitization of your files, you improve the safety and security of your file storage. Additionally, your organization has instant retrieval of your digitized files right at your fingertips.
Collaborative and Authenticating Cloud Based CRM, DRM

CTS is also at the forefront of moving or backing up your digitized files to a cloud based system for your customer relationship management and even device relationship management for your equipment. These systems provide you with the full benefits of CRM and DRM with the added convenience for everyone in your organization that comes with cloud services.

[oxy-back-to-top ct_sign_sha256='864604092fb247c3737145be403e14b8d665e816aac7ad26d5c49a3ffc2d0795' ct_options='{"ct_id":215,"ct_parent":0,"selector":"-back-to-top-215-17","original":{"oxy-back-to-top_type":"icon","oxy-back-to-top_slug_oxybacktotopicon_background_color":"rgba(193,0,0,0.9)","oxy-back-to-top_slug_oxybacktotopicon_color":"color(7)","oxy-back-to-top_icon":"FontAwesomeicon-arrow-up","oxy-back-to-top_icon_size":"27","background-color":"color(12)","height":"50","width":"50","oxy-back-to-top__border_border_radius_border-radius":"5","color":"color(7)","padding-left":"12","padding-right":"12","padding-bottom":"12","padding-top":"8"},"activeselector":false}'][/oxy-back-to-top]